👴 jdcard
Oatcakes

Yield:  32 servings
Cooking time:  70 minutes
Preparation time: 20 minutes
Category:  Breads
Cuisine:  Scottish
Rating: 4/5 stars
Source:  James Card
    
Ingredients
600 grams Rolled oats
150 grams Pancake mix
150 grams Olive oil
450 grams Water
Instructions
Preheat the oven to 325 degrees Fahrenheit.
Stir oats and pancake mix together in a mixing bowl until there are no clumps and the mixture has a uniform texture and consistency.
Mix oil and water together in a separate container. (Since we're weighing all the ingredients we could measure the oil and water directly into the mixing bowl after all the dry ingredients have been mixed. I usually use a separate container for liquid ingredients because I may need to melt butter instead of oil, or mix broth or pureed fruits or vegetables to the mix.)
Add the liquid ingredients to the dry ingredients all at once and stir thoroughly until all the liquid has been absorbed and there are no dry spots left in the dough. The dough will become thick and stiff and should begin to form a ball.
Turn the dough out onto a 12-inch baking stone and shape it with a spatula and a rolling pin until it covers the stone evenly with about a 1/4 inch border around the edge. The dough will be dense and about 3/8 inch thick. (It can be baked in a 9x13 baking pan or on a cookie sheet, you'll probably want to grease the pan and/or use baking parchment to line it.)
Using a large knife, slice the dough into bars or wedges. For a more finished look, use your spatula to tidy up the edges where the knife may have displaced the dough a bit.
Diagram of slicing pattern to yield 32 servings [IMG]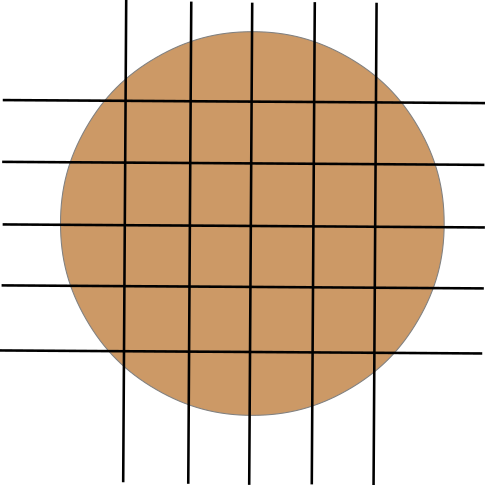 Bake for about 70 minutes, rotating the baking stone halfway after about 35 minutes so the oatcakes cook more evenly.
Remove from the baking stone and store into airtight containers while they are still hot. This helps keep them soft and easy to chew.
Notes
We have not tried this recipe with "quick-cooking" rolled oats and would NOT recommend that as a substitute for the traditional, regular, slow-cooking rolled oats.
If you're baking in a 9x13 inch baking dish we've had better results by cooking at 300℉ for about ten minutes longer.
The original recipe included flour, salt, and baking soda. We use pancake mix as a shortcut to avoid having to measure all those things separately. We always have pancake mix on hand, and we like the results we get with the pancake mix, so it is how we present the recipe now. We use Krusteaz Buttermilk Pancake Mix, or, for a gluten-free version of the recipe, we prefer Pamela's Baking & Pancake Mix. We have also had success with Kodiak Power Cakes Pancake and Waffle mix.
https://www.pamelasproducts.com/
Olive oil works well and tastes good, but really you can use whatever fat you and your cardiologist agree on. We've made many batches with butter (until the doctor reminded me my cholesterol levels were too high), we've also used bacon fat (yummy, but we only did it once), coconut oil, and even canola oil -- all with good results. I imagine even lard would work well, but I don't think I want to try beef fat.
Choosing the appropriate ingredients gives the flexibility of a gluten-free, vegan, or (relatively) high-protein version to meet your unique dietary needs.
Options!
We've made dessert versions by adding brown sugar (50 - 150 grams, depending on how big your sweet tooth is) and cinnamon (5 - 8 grams) and/or fruit (fresh or frozen berries (cranberries are my favorite), pears, raisins, etc.) (50 - 150 grams). If you use dried fruit you may want to add a little more water to your recipe; using fresh or canned fruit like peaches or pears you might want a bit less water. We've tried adding banana but did not like the resulting rubbery texture. Serve with butter, honey, jam, or peanut butter.
Savory versions have included veggies like carrots or sweet potatoes (can be included raw if you grate them), chopped bell peppers, celery, and/or onions, bacon, shredded cheese, and spices like rosemary, basil, and/or oregano. We'd like to try including sun-dried tomatoes, but so far they are beyond our budget. Serve with cream cheese or sour cream.
Be mindful of the total quantity of amendments you add to your batch. If you get carried away the finished product may not hold together very well -- the oats and pancake mix are the base of the recipe and provide the structure that keeps it all together. Whatever combination of optional add-ins you choose should probably not total more than about 200 grams.
Here is a favorite savory version; add to the base recipe:
70 grams diced bell pepper
30 grams diced onion
1/2 teaspoon rosemary
1/2 teaspoon basel
100 grams shredded cheese (ours is a cheddar and Monterey Jack mix)
Oh, I nearly forgot! When rolled out thin (5 mm or less) and baked until crisp this dough makes a very effective oat cracker. They become a more durable portable bread that can go with you to power the adventures of your life away from the comforts of home.
Here we have a basic recipe: one part pancake mix (or baking mix), one part oil, three parts water, and four parts oats. As delicious as the base recipe is, it is so much more because of its flexibilty -- it can become sweet or fruity (or both) for dessert, it can be savory or even spicy for snacks, and can be simple and satisfying as a basic, staple comfort food (at least it has become so for us).
Our first version of this recipe is what led to this more generalized version.
Nutritional Information
Nutritional information reflects the amount per serving.

Calories           :      130
Total Fat          :  (g)   6
Saturated Fat      :  (g)   1
Cholesterol        : (mg)   1
Sodium             : (mg)  58
Total Carbohydrate :  (g)  16
Dietary Fiber      :  (g)   2
Sugars             :  (g)   0
Protein            :  (g)   3
    
Here is a stylized single-page poster version of this recipe, with some additional notes about what inspired me to start baking oatcakes in the first place: several mentions of them in a good story I was reading. If you want to print your own I recommend the SVG version of the file rather than the PNG version that appears first.
Poster version [PNG]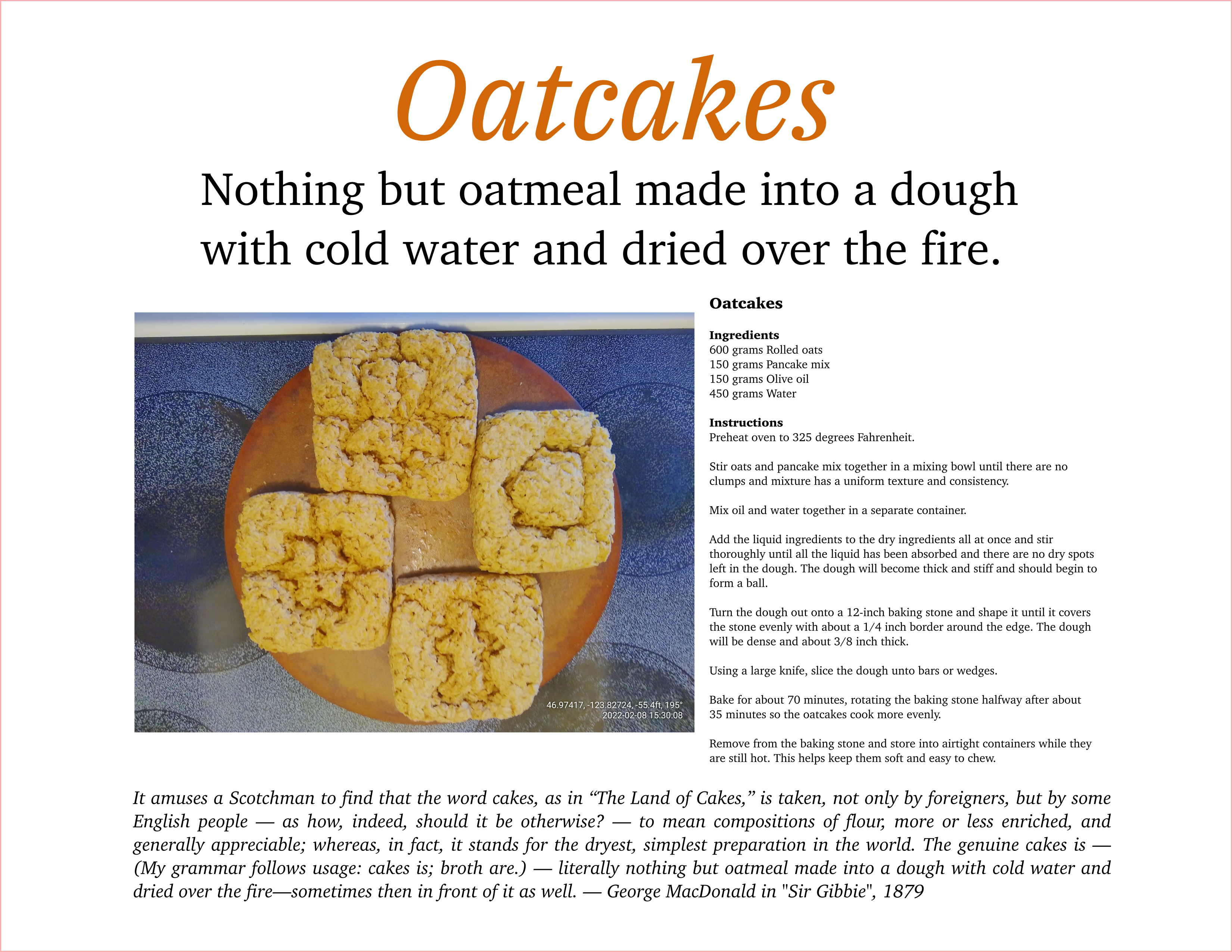 Poster version [SVG]

And of course the story that inspired it all:
⁂
©2022 🅭🅯🄏🄎 Attribution-NonCommercial-ShareAlike 4.0 International (CC BY-NC-SA 4.0)
⋯