👴 jdcard
When Right Is Wrong
Romans 12:9-18 -- Love must be without hypocrisy. Abhor what is evil, cling to what is good. 10 Be devoted to one another with mutual love, showing eagerness in honoring one another. 11 Do not lag in zeal, be enthusiastic in spirit, serve the Lord. 12 Rejoice in hope, endure in suffering, persist in prayer. 13 Contribute to the needs of the saints, pursue hospitality. 14 Bless those who persecute you, bless and do not curse. 15 Rejoice with those who rejoice, weep with those who weep. 16 Live in harmony with one another; do not be haughty but associate with the lowly. Do not be conceited. 17 Do not repay anyone evil for evil; consider what is good before all people. 18 If possible, so far as it depends on you, live peaceably with all people.
Drawing of person sitting at a computer; voice from another room: 'Are you coming to bed?'; reply: 'I can't. This is important.'; voice: 'What?'; reply: Someone is WRONG on the internet.' [IMG]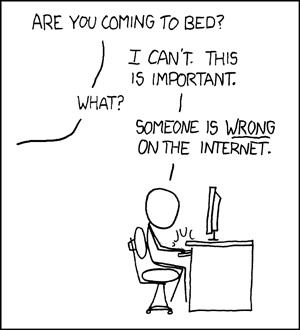 [Cartoon from http://xkcd.com/386/]
We've probably all noticed how intense our public discussions have become over the past several years. And, when I say "intense" you will probably realize that I also may mean nasty, rude, mean-spirited, and hostile. Many people have noted how uncivil our recent public discourse has been. It hasn't all been just words either: we've been horrified as we've seen incidents of road rage, hate crimes, and bullying. Sadly, I suspect that we, the followers of Christ, have been tainted with this infection as well.
We follow Christ, who teaches us:
Luke 6:27-31 -- "But I say to you who are listening: Love your enemies, do good to those who hate you, 28 bless those who curse you, pray for those who mistreat you. 29 To the person who strikes you on the cheek, offer the other as well, and from the person who takes away your coat, do not withhold your tunic either. 30 Give to everyone who asks you, and do not ask for your possessions back from the person who takes them away. 31 Treat others in the same way that you would want them to treat you.
We are called to love. But I wonder, have we allowed ourselves to become hateful, vengeful, spiteful, or insensitive? If I am honest I must certainly confess to these things on occasion. [EXAMPLE: E-mail]
What does love require of us? Sometimes others are wrong, and it may be that the loving thing to do is to correct them. And sometimes others do things that harm us, certainly we should defend ourselves. How should we respond?
I Corinthians 13:4-7 -- Love is patient, love is kind, it is not envious. Love does not brag, it is not puffed up. 5 It is not rude, it is not self-serving, it is not easily angered or resentful. 6 It is not glad about injustice, but rejoices in the truth. 7 It bears all things, believes all things, hopes all things, endures all things.
Proverbs 15:1 -- A gentle response turns away anger, but a harsh word stirs up wrath.
Proverbs 15:18 -- A quick-tempered person stirs up dissension, but one who is slow to anger calms a quarrel.
Peter's letter to the saints scattered abroad -- you and me -- offers the clearest instruction:
I Peter 3:8-17 -- Finally, all of you be harmonious, sympathetic, affectionate, compassionate, and humble. 9 Do not return evil for evil or insult for insult, but instead bless others because you were called to inherit a blessing. 10 For the one who wants to love life and see good days must keep his tongue from evil and his lips from uttering deceit. 11 And he must turn away from evil and do good; he must seek peace and pursue it. 12 For the eyes of the Lord are upon the righteous and his ears are open to their prayer. But the Lord's face is against those who do evil. 13 For who is going to harm you if you are devoted to what is good? 14 But in fact, if you happen to suffer for doing what is right, you are blessed. But do not be terrified of them or be shaken. 15 But set Christ apart as Lord in your hearts and always be ready to give an answer to anyone who asks about the hope you possess. 16 Yet do it with courtesy and respect, keeping a good conscience, so that those who slander your good conduct in Christ may be put to shame when they accuse you. 17 For it is better to suffer for doing good, if God wills it, than for doing evil.
Did you catch that? "Do it with courtesy and respect".
What did Jesus do? We might remember times when he seemed angry or harsh. How did He handle these kinds of situations?
Mark 11:15-17 -- Then they came to Jerusalem. Jesus entered the temple area and began to drive out those who were selling and buying in the temple courts. He turned over the tables of the money changers and the chairs of those selling doves, 16 and he would not permit anyone to carry merchandise through the temple courts. 17 Then he began to teach them and said, "Is it not written: 'My house will be called a house of prayer for all nations'? But you have turned it into a den of robbers!"
This is an example sometimes cited when discussing anger, but I am more struck by Christ's focus on teaching people concerning their errors. Another example of how Jesus handled opposition is found in Luke 11.
Luke 11:39-42 -- But the Lord said to him, "Now you Pharisees clean the outside of the cup and the plate, but inside you are full of greed and wickedness. 40 You fools! Didn't the one who made the outside make the inside as well? 41 But give from your heart to those in need, and then everything will be clean for you. 42 But woe to you Pharisees! You give a tenth of your mint, rue, and every herb, yet you neglect justice and love for God! But you should have done these things without neglecting the others."
He uses forceful words, but look beyond the accusatory tone and you see a genuine concern to lead them to correct their behavior. He is not picking a fight, He is leading them to righteousness.
In summary, it is abundantly evident that when we are called to love -- love one another, love our neighbors, love our enemies -- it requires of us that we temper our interactions with others; never should we engage in shouting matches, belittling or bullying others, or violence in any form, whether face-to-face, on the phone, in e-mail or electronic messages, or even in the mail. Love demands it.
⁂
©2022 🅭🅯🄏🄎 Attribution-NonCommercial-ShareAlike 4.0 International (CC BY-NC-SA 4.0)
⋯