Ripperdan, California
The town of Ripperdan, California as surveyed in 1871. This small town existed with this name for only a brief time; ultimately being surrounded by, and becoming a part of, the City of Modesto, California.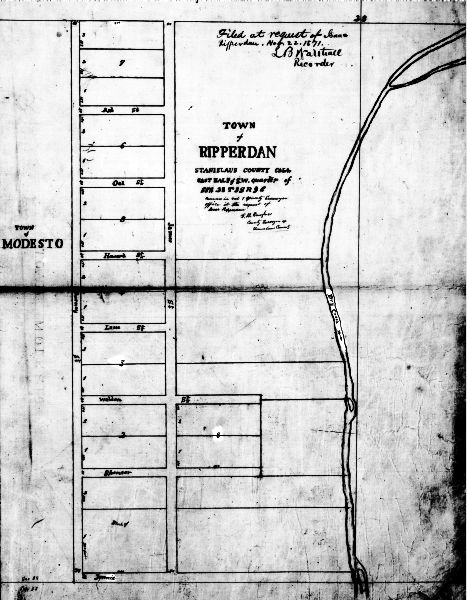 Ripperdan.png (5836 x 7500 Pixels, 2.86 MB)
Image extracted from 01-M-007.pdf downloaded from <URL: http://www.stanco-pworks.org/stancoedi/subdivision/subSearchRsltDetail.php?detEntryID=2413&formType=m > on 2007-02-21.
There is another place in California with the name Ripperdan, about 7.5 miles south of Madera.
---

This work is licensed under a Creative Commons Attribution-NonCommercial-ShareAlike 4.0 International License. Last modified: 2022-07-21 07:10:46 -- Page loaded at: 2023-12-08 10:50:35