👴 jdcard
Who am I?
PHOTO: James Card [IMG]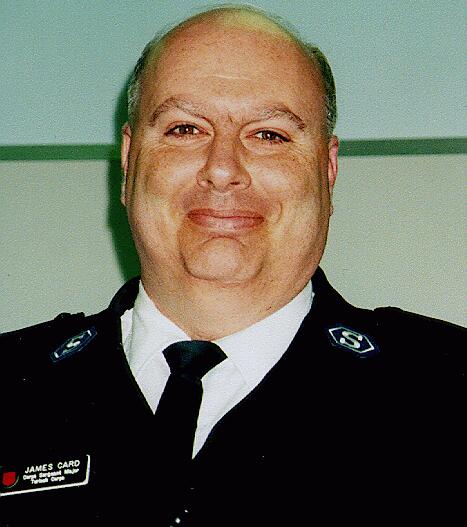 Offline folks know me as James Card. I've had a personal website online since 1997 and my own domains since 2001.
⋯
What we are (now) is largely a product of what we were -- to help you understand "where I am coming from" here are some historical details.
Why "jdcard"?
Where did "jdcard" come from? Our first real ISP (other than CompuServe or AOL) was InReach.com, way back in the mid-90s. Their offering included e-mail service and space on their webserver – both keyed to the user ID they assigned you, which was usually based upon the initial letter of your first name and (the first portion of) your last name. They already had a customer whose name was J. Cardoza, who had been assigned the username "jcard", so they stuck in the initial from my middle name to resolve the conflict.
When I decided to register my own domain name, the various combinations of "jcard" and "jamescard" were already taken, and by that time I had posts scattered around the internet using "James Card" <jdcard@inreach.com>, so I registered jdcard.com and jdcard.net and have used them ever since. There is a bank in Ecuador who wanted jdcard.com for one of their products, and there was a Chinese manufacturer (at jdcard.cn) who used the name for a while, so generally if you search English-language sites for "jdcard" you're likely to find me.
Ancestral History
Eldest of six children (four boys, two girls). Father was a career soldier who worked as a mechanic after retiring from the military. Mother worked for a few years as a cook in an institutional kitchen.
Geographic History
Map [IMG]

Born at Camp Cooke (now Vandenburg Air Force Base) in California. Because we were a military family we moved around a bit:
Germany (twice);
Cupertino, CA;
Eureka, CA;
Tacoma, WA;
Salinas, CA;
White City, KS;
Fort Ord, CA;
Whittier, CA;
and a few others
After I left home I continued to wander around:
Monterey, CA;
Grand Junction, CO;
Billings, MT;
White River, AZ;
San Francisco, CA;
Coos Bay, OR;
Rancho Palos Verdes, CA;
Redding, CA;
Ketchikan, AK,
Salinas, CA
Newman, CA
In addition to living in all these places, we have traveled all over the western U.S. and Canada.
Educational History
Nothing remarkable here! Public primary and secondary schools. I didn't care much for [school] and was lacking one semester of English at the end of my high school career, but it was easy to pass the G.E.D. exam a couple years later. I had no interest in more school, but did want to serve as a Salvation Army officer so I entered the Salvation Army School for Officers Training (a two-year program). Because of some health-related problems we (my wife and I) were not able to graduate and be commissioned as Salvation Army officers. I went back to school in 1996 and [graduated] in June 2000 with a B.Sc. in Computer Information Systems.
Work History
In my younger years I worked at a variety of jobs: janitor, truck driver, deliveryman, bookkeeper, miner, store manager, and office clerk. Later (and more significant) jobs included store supervisor, manager for an overnight delivery company, computer operator for a bank, and business administrator for The Salvation Army. I am retired now.
Corps Service History
My commitment to The Salvation Army is extensive (as you probably noticed on other pages here). I have served in a variety of positions within The Salvation Army, both paid, professional positions (mentioned above) and unpaid appointments as a Local Officer. Some of these positions include: Corps Treasurer, Missionary Sergeant, Corps Sergeant Major, Recruiting Sergeant, Junior Soldier Sergeant, and Corps Cadet Guardian, Sunday School Teacher, and Songster. I am currently serving as Corps Sergeant Major.
⋯
© Copyright 1997 - James Card - Permission is granted for non-commercial use of all original material.
⁂
©2022 🅭🅯🄏🄎 Attribution-NonCommercial-ShareAlike 4.0 International (CC BY-NC-SA 4.0)
⋯